5325 Lakefront Blvd. #A, Delray Beach, FL 33484; 508-866-7288
Archives by date
You are browsing the site archives by date.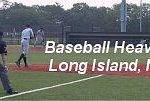 2018 CBUAO/ECUA Umpire Camp Clinic Information: The CBUAO/ECUA Clinic offers hands-on teaching and evaluation from some of the top Division 1 college baseball umpires and instructors in the Northeast Region. Camp Directors, Frank Zitaglio of East Coast Umpires and CBUAO President, Nick Zibelli have put together an outstanding group of instructors […]

Umpires at the 2018 NEIBA All-Star Game played at McCoy Stadium in Pawtucket, RI. L-R:  David Viveiros (Narragansett, RI), Jack Reardon (Smithfield, RI), Tom Carey (Carver, MA), Pat Burns (Mansfield, MA).

The Crew: From L to R… Ken Fitts, Joe Volpe, Brandon Misun,Patrick Griffin, John Lavin, Chris Deichman, Andrew Wolverton, Mark Lima