5325 Lakefront Blvd. #A, Delray Beach, FL 33484; 508-866-7288

Attention New CBUAO Umpire Candidates We are now accepting New Umpire Applications DEADLINE FOR APPLICATION IS SEPTEMBER 24,2018 ANY QUESTIONS CALL NICK ZIBELLI 508-866-7288 Click on link below for new umpire application. New Umpire Application form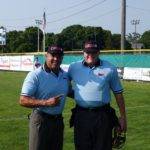 Old friends Eddie Cepeda (Baiting Hollow, NY) and Tyler Bullock (Swansea, MA) reunite at a Cape Cod League game in Wareham.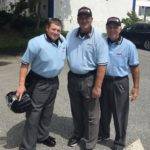 Tom Carey, Larry Rosenberg, Nick Zibelli are all smiles at Hyannis, on another beautiful day on Cape Cod     Meanwhile, out in the Hamptons… Umpires Joe Lasaponara and Derek Moccia are enjoying a sunny day in the Hamptons Collegiate Baseball League.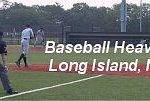 LAST CALL FOR CAMP   2018 CBUAO/ECUA Umpire Camp Clinic Information: The CBUAO/ECUA Clinic offers hands-on teaching and evaluation from some of the top Division 1 college baseball umpires and instructors in the Northeast Region. Camp Directors, Frank Zitaglio of East Coast Umpires and CBUAO President, Nick Zibelli have put together an […]

Umpires at the 2018 NEIBA All-Star Game played at McCoy Stadium in Pawtucket, RI. L-R:  David Viveiros (Narragansett, RI), Jack Reardon (Smithfield, RI), Tom Carey (Carver, MA), Pat Burns (Mansfield, MA).

The Crew: From L to R… Ken Fitts, Joe Volpe, Brandon Misun,Patrick Griffin, John Lavin, Chris Deichman, Andrew Wolverton, Mark Lima