5325 Lakefront Blvd. #A, Delray Beach, FL 33484; 508-866-7288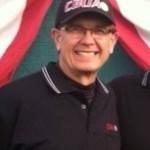 Congratulations goes out to Joe Peters  for recently being voted into the Cranberry League Hall of Fame. Joe will be formally inducted on November 27th 2015 at the CBL Awards Banquet. Tickets Can be purchased by going to the cranberry baseball league website.  http://cranberryleague.com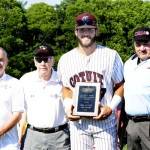 Will Haynie (Cotuit Kettleers) receives the Daniel J. Silva Sportsmanship Award Daniel J. Silva Sportsmanship award. The award is given to one person in the league who best represents strong will and the sportsmanship aspect of the game. It is decided by the umpires and officials who have a connection with players not always […]
By: John Garner Jr. Cape League umpire Rick Delvecchio in action / SportsPix 08/12/2015 5:25 PM –     Rick Delvecchio has spent virtually his entire lifetime involved in baseball as a player, coach and for the past several years as an umpire.      A Braintree, Mass., native and a former baseball and ice hockey […]
Dom DiMare, Nick Zibelli, and Mike Rabideau enjoying the festivities during the Cape Cod Baseball League Championships.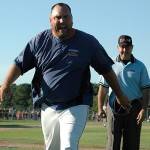 John Leeds (Tiverton, RI) watches unhappy Hyannis manager Chad Gassman leave the field after being ejected by plate umpire Bill Fisher, in game 2 of the best of 3 Cape Cod League Championship at Yarmouth/Dennis.  The series is tied at one game apiece with the championship game scheduled for Wednesday, August 12th at 6pm in […]
Left to right: Joe Peters MA. John Leeds RI. Rick Force NH. Larry Rosenberg NJ.