5325 Lakefront Blvd. #A, Delray Beach, FL 33484; 561-819-2155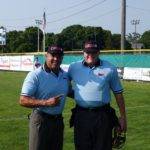 Old friends Eddie Cepeda (Baiting Hollow, NY) and Tyler Bullock (Swansea, MA) reunite at a Cape Cod League game in Wareham.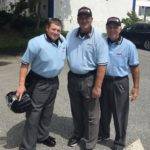 Tom Carey, Larry Rosenberg, Nick Zibelli are all smiles at Hyannis, on another beautiful day on Cape Cod     Meanwhile, out in the Hamptons… Umpires Joe Lasaponara and Derek Moccia are enjoying a sunny day in the Hamptons Collegiate Baseball League.  

Umpires at the 2018 NEIBA All-Star Game played at McCoy Stadium in Pawtucket, RI. L-R:  David Viveiros (Narragansett, RI), Jack Reardon (Smithfield, RI), Tom Carey (Carver, MA), Pat Burns (Mansfield, MA).

The Crew: From L to R… Ken Fitts, Joe Volpe, Brandon Misun,Patrick Griffin, John Lavin, Chris Deichman, Andrew Wolverton, Mark Lima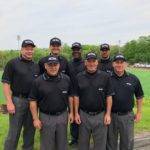 NCAA D-II Northeast Regional Championship Crew (L-R): Patrick Hughes (Lake Grove, NY) Rick Cacciatore (Waltham, MA) Jonathan Jordon (Agawam, MA) Warren Nicholson (Brooklyn, NY)    Mark Lima (Succasunna, NJ), Crew Chief Vicente Medina (North Bergen, NJ) Bill Ambrosini (Wading River, NY)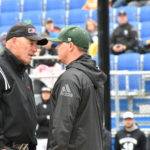 Mark Lima (NJ) shown here with Felician coach Chris Langan has been selected to represent the Northeast region at the 2018 NCAA Division II Men's College World Series in Cary, NC.