5325 Lakefront Blvd. #A, Delray Beach, FL 33484; 561-819-2155
With the season winding down, all of us at the CBUAO would like to thank the dedicated umpires, whose hard work and commitment during this snow-packed spring, helped sustain college baseball in the Northeast, during a season that will truly never be forgotten.  Thank You!
Over 100 umpires listening intently to CBUAO President Nick Zibelli conduct a pre-season clinic meeting in a standing room only library at Smithfield High School this past Saturday. Meeting was to prepare umpires with new rule changes for the upcoming 2015 college baseball season. This meeting along with another held in Long Island, NY., raised […]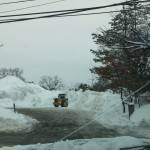 Dedham, MA  Its that time of the year to start preparing for the season. Before you know it all of THIS will be gone!!!!!!!
2015 Umpire registration: Memo from Nick Zibelli to all prospective baseball umpires for 2015 season: Obligations of the umpires are as follows:   Umpires must attend one of the sanctioned pre-season clinic/meetings conducted by the CBUAO or NCAA.  The CBUAO will sponsor a clinic/meeting or meetings at a date and time to be announced.   NCAA […]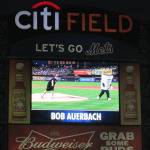 Umpire and Dunkin Donuts contest winner Bob Auerbach ( Ringwood , NJ ) throws out the first pitch at Citi Field prior to the Mets 2-1 win over the Astros on 9/27.