5325 Lakefront Blvd. #A, Delray Beach, FL 33484; 561-819-2155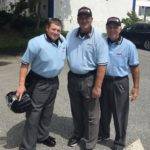 Tom Carey, Larry Rosenberg, Nick Zibelli are all smiles at Hyannis, on another beautiful day on Cape Cod     Meanwhile, out in the Hamptons… Umpires Joe Lasaponara and Derek Moccia are enjoying a sunny day in the Hamptons Collegiate Baseball League.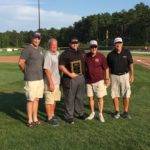 Stephen Williams (Abington, MA) receives the 2017 Curly Clement Award, as the Cape Cod Baseball League Umpire of the Year. . L-R:  Mike Carrier (CCBL Deputy Commissioner), John Teehan (CBUAO Evaluator), Steve Williams (Curly Clement Award Recipient), Sol Yas (CCBL Director of Officiating), Nick Zibelli (CBUAO President) _________________________________________________________________________________________________ Josh Breaux (McLennan CC) receives the 2017 […]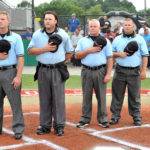 The umpiring crew stands at attention to honor America before the 2017 Cape Cod League All-Star Game at Wareham. L-R:  Nick DeMarchi (Boston, MA), Rick DelVecchio (Braintree, MA), Tom Magier (Mt. Sanai, NY), Jeff Kinney (Damariscotta, ME). Photo Courtesy SportsPix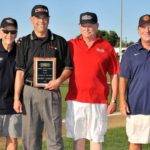 Congratulations to Mickey Garcia (Mashpee, MA) the recipient of the 2016 Curly Clement Award as the Cape […]
CBUAO President Nick Zibelli poses with the umpiring crew for the Hamptons Collegiate Baseball League Championship Series at Montauk, NY. (Left to Right): Tom Magier, Rich Lionetti, Nick Zibelli, and Skip Amadio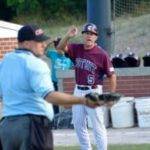 Plate umpire Jeff Kinney (Gardiner, ME) goes about his business as Cotuit Kettleers Manager Mike Robert expresses his displeasure between innings of a recent Cape Cod League game.