5325 Lakefront Blvd. #A, Delray Beach, FL 33484; 561-819-2155

It sure doesn't feel like spring in Maine.  Umpires Ed McDonough and Danny Deshaies brave 35 degree temperatures as Bates hosted Plymouth State in Lewiston, Maine on 4/4/18.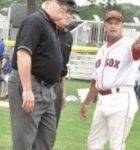 Congratulations to Jimmy Kelly who has been selected as the 2017 Yawkey Baseball League Umpire of the Year. Jimmy has been a proud member of the CBUAO for more that 10 years. The CBUAO congratulates Jimmy on this outstanding accomplishment.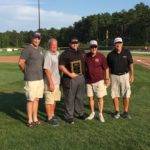 Stephen Williams (Abington, MA) receives the 2017 Curly Clement Award, as the Cape Cod Baseball League Umpire of the Year. . L-R:  Mike Carrier (CCBL Deputy Commissioner), John Teehan (CBUAO Evaluator), Steve Williams (Curly Clement Award Recipient), Sol Yas (CCBL Director of Officiating), Nick Zibelli (CBUAO President) _________________________________________________________________________________________________ Josh Breaux (McLennan CC) receives the 2017 […]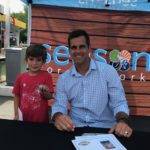 Max (Zibelli) Carpenter, Grandson of Vin Sr, showing off with Patriots Kicker Steven Gostkowski's Super Bowl LI ring at the recent Hasbro Children's Hospital "Kick 4 Kids Challenge" in Providence, RI.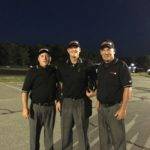 Lou DeLuise (Nyack, NY), Nick DeMarchi (Charlestown, MA), and Mark Lima (Succasunna, NJ) cap off another successful week on Cape Cod.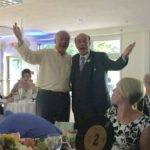 The Zibelli Brothers (Vin and Nick) entertain the guests at the wedding of Daughter #1 Nicole Zibelli and Matt Barry.