5325 Lakefront Blvd. #A, Delray Beach, FL 33484; 508-414-7389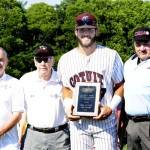 Will Haynie (Cotuit Kettleers) receives the Daniel J. Silva Sportsmanship Award Daniel J. Silva Sportsmanship award. The award is given to one person in the league who best represents strong will and the sportsmanship aspect of the game. It is decided by the umpires and officials who have a connection with players not always […]
By: John Garner Jr. Cape League umpire Rick Delvecchio in action / SportsPix 08/12/2015 5:25 PM –     Rick Delvecchio has spent virtually his entire lifetime involved in baseball as a player, coach and for the past several years as an umpire.      A Braintree, Mass., native and a former baseball and ice hockey […]
Dom DiMare, Nick Zibelli, and Mike Rabideau enjoying the festivities during the Cape Cod Baseball League Championships.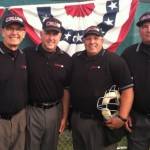 Left to right: Joe Peters MA. John Leeds RI. Rick Force NH. Larry Rosenberg NJ.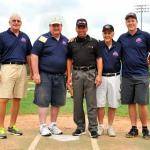 from (L-R) Deputy Commissioner and former award winner Peter Hall, Commissioner Paul Galop, Bill Fisher, Senior Deputy Commissioner Sol Yas, and Deputy Commissioner Mike Carrier.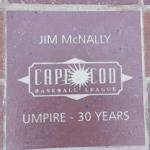 By: CCBL Public Relations Office Jim McNally, past winner of the Curly Clement Umpire of the Year award, was a longtime friend of the CCBL. He served as an umpire for years before becoming a Deputy Commissioner following his retirement from officiating. A commemorative engraved brick was unveiled on Lowell Park's patio in front […]