5325 Lakefront Blvd. #A, Delray Beach, FL 33484; 561-819-2155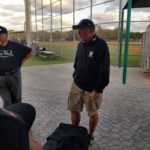 Nick Zibelli President of the CBUAO instructing at the recent camp in West Palm Beach FL.
Thirty eager college umpires spent a week at  Santaluces Complex being trained, evaluated and rectified for college baseball assignments. The camp included on field evaluations, plate, base mechanic instruction and classroom sessions and featured DII colleges from the Northeast as well as international teams.