5325 Lakefront Blvd. #A, Delray Beach, FL 33484; 561-819-2155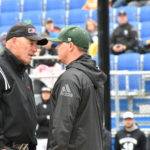 Mark Lima (NJ) shown here with Felician coach Chris Langan has been selected to represent the Northeast region at the 2018 NCAA Division II Men's College World Series in Cary, NC.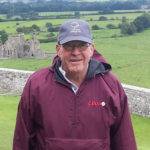 Ed McDonough (Buxton, Maine) bringing the CBUAO brand to Ireland on a recent visit to the Rock Of Cashel in Tipperary.
Joe Peters and Mark Piantedosi waiting out the fog at the Little East Conference Championship at UMASS-Boston.  Game 3 of the tournament was halted after 5 innings. 

(Left to Right ) Pat Burns and Mike Griffin ready and dressed for their DH at U Mass Dartmouth 4/21. Temperatures manageable this day. However, spring has yet to show itself in the Northeast.

It sure doesn't feel like spring in Maine.  Umpires Ed McDonough and Danny Deshaies brave 35 degree temperatures as Bates hosted Plymouth State in Lewiston, Maine on 4/4/18.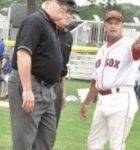 Congratulations to Jimmy Kelly who has been selected as the 2017 Yawkey Baseball League Umpire of the Year. Jimmy has been a proud member of the CBUAO for more that 10 years. The CBUAO congratulates Jimmy on this outstanding accomplishment.