Archives by date
You are browsing the site archives by date.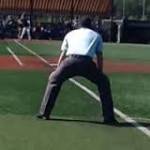 THE CBUAO WILL BE CONDUCTING OUR 2017 FALL 3-MAN MECHANICS CAMP OCTOBER 12-15 AT BASEBALL HEAVEN IN YAPHANK, NY.  DETAILS AND REGISTRATION INFORMATION WILL BE POSTED SOON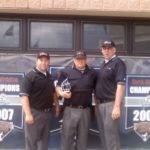 Umpire Ed Mackey in hospital after automobile accident in Tennessee Former CBUA umpire Ed Mackey (Marlboro, NY) (Center), his wife Christine, and daughter Sarah were involved in a serious automobile accident on Sunday, August 6th in Blountville, Tennessee. Ed and Sarah suffered serious injuries and were transported to Bristol Regional Medical Center. Christine was treated […]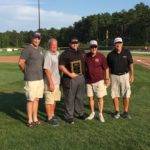 Stephen Williams (Abington, MA) receives the 2017 Curly Clement Award, as the Cape Cod Baseball League Umpire of the Year. . L-R:  Mike Carrier (CCBL Deputy Commissioner), John Teehan (CBUAO Evaluator), Steve Williams (Curly Clement Award Recipient), Sol Yas (CCBL Director of Officiating), Nick Zibelli (CBUAO President) _________________________________________________________________________________________________ Josh Breaux (McLennan CC) receives the 2017 […]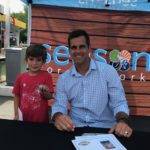 Max (Zibelli) Carpenter, Grandson of Vin Sr, showing off with Patriots Kicker Steven Gostkowski's Super Bowl LI ring at the recent Hasbro Children's Hospital "Kick 4 Kids Challenge" in Providence, RI.