Cape League's contract with umpires extended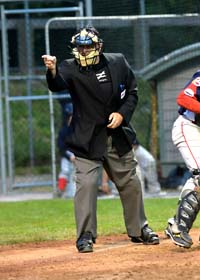 02/26/2016 5:48 PM –
Cape Cod Baseball League Commissioner Paul Galop and Director of Officiating and Senior Deputy Commissioner Sol Yas recently announced that the Cape Cod Baseball League and the College Baseball Umpires Assigning Organization have agreed to a contract extension. The two organizations are currently in the final year of a five-year agreement, and the contract will now extend through the 2022 season.
Formed in 2006, the CBUAO currently provides officiating services to more than 250 colleges and universities in divisions throughout the Northeast and Mid-Atlantic states. Baseball umpires are assigned to both regular-season and tournament championships for many NCAA conferences, as well as officiating for the top summer collegiate leagues such as the Cape League.
Nick Zibelli, president of the CBUAO, said he is "honored that the CCBL has entrusted the assigning of umpires to the CBUAO through 2022. I want to thank President (Chuck) Sturtevant, Commissioner Galop, and all the team administrators for their trust and support.
Zibelli also extended a "very special thank you to Sol Yas, the deputy commissioners, and all the talented umpires who work tirelessly to ensure that our program runs efficiently and provides the best possible umpiring services to this great league."
Yas holds the College Baseball Umpires Assigning Organization in high regard as well. Considered the nation's premier collegiate summer league, the Cape League relies on top-notch officiating.
"The Cape Cod Baseball League attracts the finest college players in the country and we believe we do the same with our officials," Yas said. "CBUAO President Nick Zibelli has assembled a group of the finest umpires in the Northeast. The CCBL deserves the highest level of officiating available, and I'm confident that the CBUAO will continue to meet our expectations as they have since 2007. We look forward to the 2016 season and beyond."
All 10 franchises are scheduled to open the 2016 Cape League season on Friday, June 10. A complete game schedule as well as links to the individual teams are available on the league's website.  http://www.capecodbaseball.org/news/season/index.html?article_id=2221