5325 Lakefront Blvd. #A, Delray Beach, FL 33484; 508-414-7389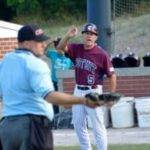 Plate umpire Jeff Kinney (Gardiner, ME) goes about his business as Cotuit Kettleers Manager Mike Robert expresses his displeasure between innings of a recent Cape Cod League game.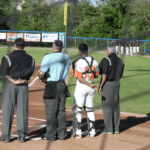 Pat Burns (Mansfield, MA), Troy Lare (Hermon, ME), and Tom Ryberg (Waltham, MA) honor our flag along with Hyannis catcher Carl Stajduhar (U of New Mexico) at the 6/14 Cape Cod League game in Hyannis.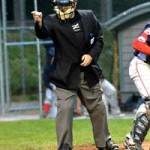 Cape League's contract with umpires extended 02/26/2016 5:48 PM – Cape Cod Baseball League Commissioner Paul Galop and Director of Officiating and Senior Deputy Commissioner Sol Yas recently announced that the Cape Cod Baseball League and the College Baseball Umpires Assigning Organization have agreed to a contract extension. The two organizations are currently in […]
By: John Garner Jr. Cape League umpire Rick Delvecchio in action / SportsPix 08/12/2015 5:25 PM –     Rick Delvecchio has spent virtually his entire lifetime involved in baseball as a player, coach and for the past several years as an umpire.      A Braintree, Mass., native and a former baseball and ice hockey […]
Dom DiMare, Nick Zibelli, and Mike Rabideau enjoying the festivities during the Cape Cod Baseball League Championships.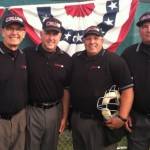 Left to right: Joe Peters MA. John Leeds RI. Rick Force NH. Larry Rosenberg NJ.