5325 Lakefront Blvd. #A, Delray Beach, FL 33484; 508-414-7389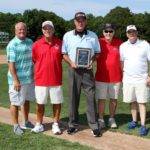 Curly Clement Award Winner: Recently retired Barnstable Police Detective Mark Delaney accepts the 2019 Curly Clement Award as the Cape Cod League Umpire of the Year.. L to R:  John Teehan (CBUAO evaluator), Nick Zibelli (CBUAO President), Renaldo Cockrum, Pat Burns, Mark Delaney, Mike Rabideau, Sol Yas (CCBL Director of Umpiring) 2019 Cape […]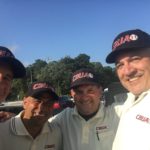 Larry Rosenburg, Michael Hinojosa, Jeff Kinney, and Joe Caraco happy to be working the Cape Cod League playoffs in Harwich.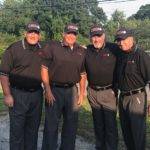 Day 1 of the Cape League Playoffs at Wareham Left to Right Larry Rosenberg (NJ), Joe Dabella (PA), Rick Emerson (NH) and Tom Ryberg (MA).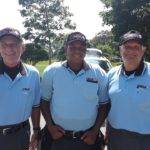 Nick Zibelli, Renaldo Cockrum and Bill Julli enjoying a beautiful Cape Cod day and some great baseball between  Falmouth and Hyannis.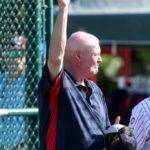 An article posted recently about one of our own. Please click on the link for more: https://www.kettleers.org/2019/07/a-special-reunion/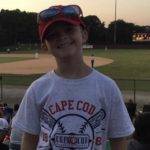 9-year-old Mason DiMare is enjoying his first Cape League baseball game, watching Dad Ryan work the plate at Guv Fuller Field in Falmouth.